Although Gibraltar is a member of the European Union it is not so for Customs purposes.
As a result all mail items (Letters, Packets, Parcels, EMS) which contain merchandise, goods or other items will need a Customs Declaration form.
Customers wishing to send items weighing over 1Kg are now required to complete the online declaration form in order to facilitate customs clearance. Click here.
This applies to all destinations world-wide including the UK and all countries in the EU. Similarly, all postal items received in Gibraltar containing merchandise, other goods or items must have a customs declaration affixed. Documents, periodicals, magazines, personal letter correspondence are exempt and do not require a declaration. Note- If in doubt use a customs declaration form.
There are two types of Customs Declaration Forms for postal use, a CN22 and a CN23. Both are available free of charge from any post office counter.
CN22 is used for goods up to £270 in value and are usually for personal use.
CN23 is used for goods of any value and are usually used commercially.
CN22 Example: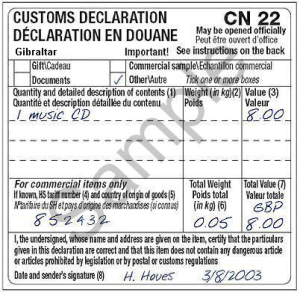 CN23 Example (Commercial use only):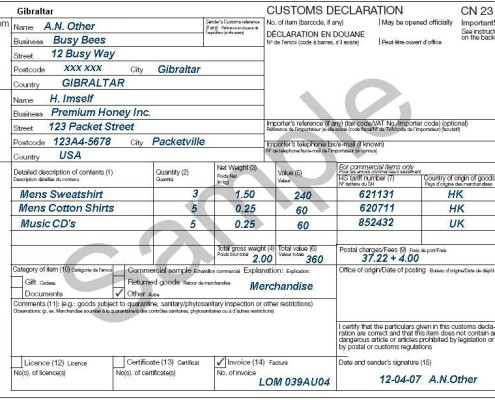 Parcels and EMS items should include the phone number of the recipient on the postal (multi-ply) form or inside the wrapping in the event the item is opened for official purposes.
Commercial Parcels and EMS items should include the phone number of the recipient in a plastic pouch on the outside of the packaging together with three original copies of the commercial invoice to facilitate customs clearance at the country of destination.